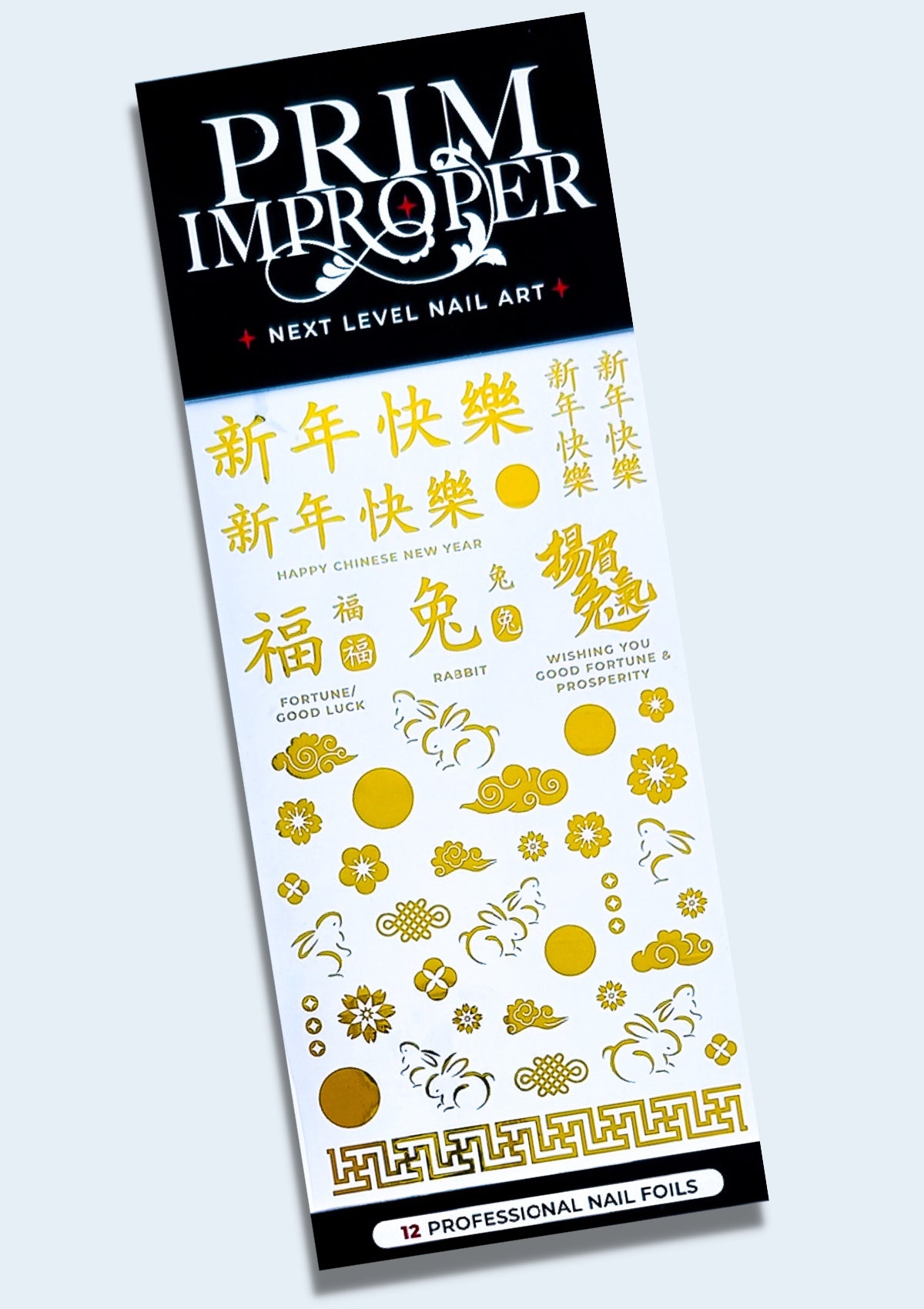 CHINESE NAIL FOILS - YEAR OF THE RABBIT - GOLD
Sale price

$23.00
Regular price
(/)
Lock in a spectacular 2023 by celebrating Chinese New Year/Lunar New Year/Spring Festival with a set filled with blessings and good luck. 
Our Year of the Rabbit Nail Foils include:
Fú - The Chinese character for fortune/good luck is a popular decoration used to welcome positive energy and happiness. Placing the character upside down symbolises luck pouring out or arriving - the phrase an "upside-down Fú" sounds nearly identical to the phrase "good luck arrives."
Blessing - A play on words, wishing you good fortune and prosperity. The word 'tu' has been switched to rabbit, which is also 'tu' but with different pronunciation.
Auspicious Clouds - A cultural symbol of peace, happiness, and good luck. The Chinese word for cloud also sounds like the word for luck/fortune.  
Rabbit - 2023 (January 22nd 2023 – February 9th 2014) is the year of the Water Rabbit. The Rabbit symbolises longevity, peace and prosperity in Chinese culture. In 2023, the Rabbit is correlated with Yin Water, which is characterised by sensitivity, intuition and inner peace.
Flowers - A significant decorative element during Chinese New Year (Spring Festival) celebrations, symbolising health, wealth, good fortune and the renewal of life.
Eternal Knots - Intricately crafted lucky charms made of a single cord, usually red, symbolising eternal good fortune, prosperity and abundance.
These foils are perfect for layering with our other Chinese New Year designs. Mix and match to create your own unique set to celebrate.
For a modern dimensional effect, try finishing with matte topcoat.
Each foil sheet includes a variety of designs and sizes. Most will fit natural/short nails. 
Handmade with love in Aotearoa.
A special thanks goes out to the Zheng family for generously sharing their knowledge and helping with translation. Ngā mihi nui!
PRODUCT INFO

Our Nail Foils have been specifically designed for professional use. To achieve a flawless transfer, they require a UV cured gel layer to adhere to.

Nail foils are a product many nail technicians will already be familiar with. Our products work exactly the same way as regular nail foils.

For a next level DIY mani, check out our Nail Transfer Tattoo range. These can be applied at home with regular nail polish.
HOW TO APPLY

1. Apply an even coat of your favourite Foil Gel over cured gel polish or enhancements. Cure. Allow to cool for at least 20 seconds.

2. Cut selected design from transfer film and place onto nail (colour side facing up).

3. Rub firmly over the entire design, starting from the centre and working your way outwards.

4. Slowly peel back the film. If any areas were missed, simply press the film back into place and rub again to transfer remaining foil.

5. Optional: gently buff the free edge and cap with acid-free primer. Highly recommended for full cover designs.

6. Seal with a coat of Base Gel or Builder Gel. Cure. Finish with your favourite Top Coat. Cure. Flex!
PROCESSING & SHIPPING

Standard orders are created and shipped within 2 working days.

Custom orders are created and shipped within 3-6 working days, depending on how complex they are.

All orders are tracked and can be monitored via the shipping carrier's website. Please note that delivery timeframes are estimates only.
Choose options